Prep Life
Wymondham College Prep School, in partnership with parents, has a vital role in preparing children to negotiate the challenges and opportunities of an increasingly complex world. This presents many positive and exciting opportunities, but also challenges and risks. Personal Development deals with real-life issues affecting our children, families and communities. It's concerned with the social, health and economic realities of their lives, experiences and attitudes including relationships. It supports students to be healthy (mentally and physically), safe (online and offline) and equipped to thrive in their relationships and careers. Parents' and carers' support is important to the success of our personal development programme. Students are encouraged to talk about the curriculum with parents and carers. Prep Life , which is the name given to our personal development curriculum includes personal, social, health education (PSHE) and relationship and health education (RHE) and is available for download so that parents and carers can see what content is being delivered.
Why is Personal Development Important?
It contributes to physical and mental health and wellbeing, encouraging individual responsibility for health.
It contributes to the safety and protection of our children and young people, from staying safe online to understanding risks associated with drugs and alcohol and knowing the law surrounding these topics.
It contributes to the information young people need to help them develop healthy, nurturing relationships of all kinds, not just intimate relationships, and know boundaries within the law.
It promotes independence, resilience and responsibility — preparing children and young people for future roles as parents, employees and leaders.
It supports employability by developing the personal and social skills demanded by commerce and industry.
It supports students to be critical consumers of information and develops the skills to identify misleading news or views on social media and elsewhere.
How is Personal Development taught?
As a school, we operate a whole school approach to Personal Development and some appropriate topics are explored in PSHE, RHE, Character Education Key Stage and whole school assembly. Other subject areas contribute to certain topics such as science, English, and PE.
Teaching is conducted in a safe learning environment through the use of ground rules and distancing techniques so that students are not put on the spot or expected to discuss their own personal issues in class. Teaching resources are selected on the basis of their appropriateness to students.
Our Personal Development curriculum extends way beyond the classroom as illustrated below: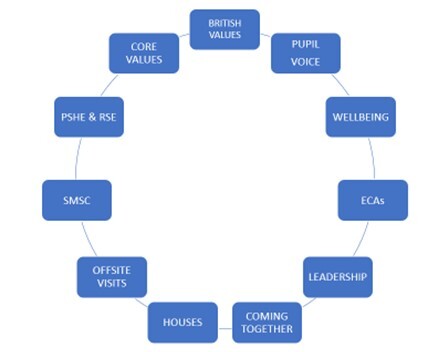 In fact, every pupil's daily lived experience contributes to, or at least has potential to contribute to, their own personal development. Below details whole school activity which contributes to the personal development of pupils at WCPS:
PSHE and Relationships Education
PSHE and Relationships Education give that link between the personal development of our pupils and the curriculum.
Teaching wellbeing and mental wellness
As well as taking a proactive approach to wellbeing by teaching around the topic in PSHE, we support those children who need an extra level of support with their mental health. We have a member of staff who is ELSA trained and we also have a number of wellbeing ambassadors who promote any number of wellbeing initiatives across the school.
SMSC
At WCPS we aim for our pupils to develop spiritually, morally, socially and culturally. For more information, please click here.
Teaching and nurturing our own school values of happiness, effort, kindness and character
Our school values are on display in classrooms. We make reference to them in school assemblies and we celebrate children who are positive, who try hard, who are kind and who show character.
Teaching British values
At WCPS we aim for our pupils to have a really good understanding of British values and how they are relevant to our daily lives. See the separate section on the school website which goes into greater detail about how exactly we do this.
Offsite visits
All pupils experience trips and visits that take them away from the school site. Years 5 and 6 experienced an annual residential trip.
Visits by people or groups in our community
We welcome members of our community in to WCPS so that we can learn about what they do to help and serve the community.
Coming together
Coming together as a school community is an important element of personal development at WCPS. They provide opportunity to celebrate achievements, learn more about our school values and attitudes, about British Values. They are also an opportunity for important messages delivered as part of PSHE to be echoed and further embedded, and for us to mark our participation in local, national and international awareness events such as Anti-Bullying Week and Mental Health Awareness Week.
Houses
Pupils at WCPS are a member of one of five houses. These mirror the houses at Wymondham College. These add to a sense of belonging and children learn about a healthy sensed of competition through a number of whole school housed events.
Pupil voice
We value every voice at WCPS. Every class has two Pupil Voice Reps who work with our Pupil Leadership Team to make sure that views, ideas and suggestions are heard, discussed and, if they are going to add to the overall experience of our pupils, implemented. We conduct a number of forums through the year which allows us to know what is working well and what needs developing in the eye of the pupil body.
ECAs
We offer a wide range of after school Enrichment Curriculum Activities (ECAs) which take place after school. Some of these are paid clubs but many are free of charge. Each term's ECA programme is unique and we always aim to offer a breadth of activities with coverage across sport, music, STEM, academic and the arts.
Leadership
We place emphasis on leadership as an important element of personal development. We have a pupil leadership team which comprises our Heads of School, Heads of Underwood Hall and Heads of House. We also have a number of monitor and ambassador roles that cover areas such as break times, the library, the environment and mental health.